Lm-therm. We control the climate.
Control cabinet heaters and
control cabinet cooling units
for the perfect protection!
Lm-therm. Anyone can do simple.
Customised solutions
in control cabinet air conditioning.
Lm-therm. Cable good. All good.
Individual cable production –
precise, fast, flexible.
Customized control cabinet air conditioning for almost every application.
Dangers from humidity, condensation and frost for your valuable electronics? Too cold or too warm for your control system?
Lm-therm offers solutions in the field of control cabinet air conditioning from a single source with a large selection of control cabinet heaters, control cabinet cooling units and Peltier control cabinet cooling units. In addition, at Lm-therm you will find filter fans, outlet filters, controllers, thermostats, hygrostats and control cabinet lights for almost every application.
Our strength are customized solutions for control cabinet air conditioning and in the field of industrial air conditioning, when the "standard" control cabinet heating does not fit! You will also find a control cabinet heating with 24V or 400V.
So you will find, in addition to good expert advice on the subject of thermal management, custom-fit solutions.
Convince yourself of our solution competence and let us advise you.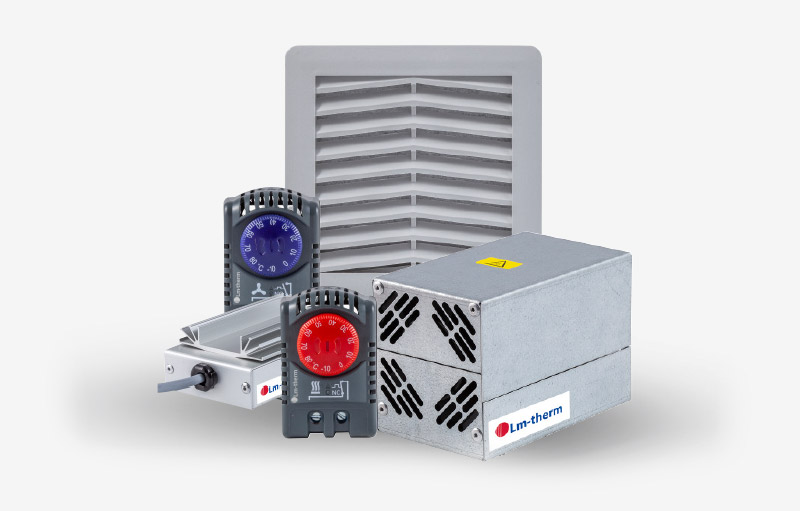 Our core competencies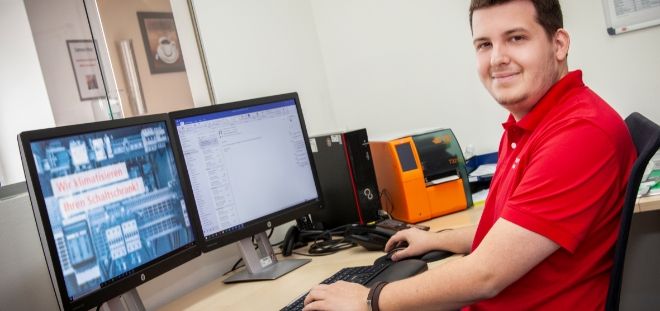 Advice and service
Use our experience!
Our Lm-therm tool for calculating the required heating and cooling output.
You will get the right values for your project reliably and fast, with the relevant influencing factors, like temperature, power dissipation and control cabinet material, etc., being taken into account!
We're happy to check your calculations and we'll create a proposed solution for you at short notice!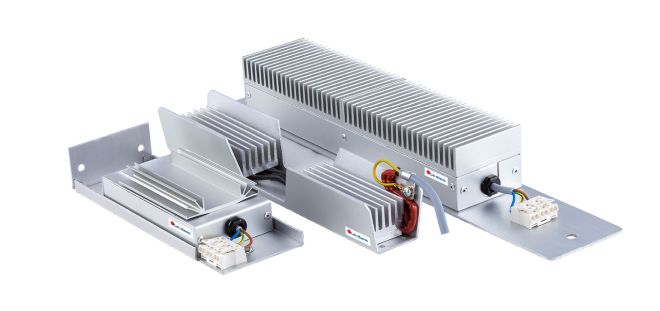 Individual solutions
The standard doesn't work? Then we need a special construction!
Due to our many years of project experience we are able to manufacture customised solutions and special constructions for control cabinet heaters and Peltier cooling solutions!
Use our experience. We'll deliver the perfect tailor-made solution that you need. We're happy to offer our advice!
Why Lm-therm?
A one-stop shop
All the required components of industrial climatisation for the areas of heating, cooling, ventilation and controlling from one source, including our own cable production and assembly of components!
Partnership and quality
Our goal is long-term partnership with our customers that is shaped by trust. We have been ISO 9001 certified since 2001. We aspire to durable products of high quality.
Competent advice
Together we analyse the problem and work out a perfect solution. We offer you advice and support you every step of the way. Whether the solutions are standard or customised, we can do it!
Flexibility
With our know-how and our own production, we can respond flexibly to customer needs. From lot size 1 to serial production, even where delivery times are critical.
News
Never miss anything again.
Contact
You can reach us by phone at +49 8543 6246 030 from Monday to Thursday from 8:00 a.m. to 5:00 p.m. and Fridays until 1:00 p.m.
Downloads
We provide you with catalogues, brochures, technical documents and other useful materials in our downloads section.